The side-effects of the European Union's Latin American trade agreement
Unhealthy Trades considers the potential health impacts of the European Union's trade deals with Latin American countries, particularly with Mexico, Mercosur (a regional group including Brazil, Argentina, Uruguay and Paraguay) and Chile.
On 17 May 2018, the European Public Health Alliance, along with Latin American and global partners, have written to the EU Trade Commissioner Cecilia Malmström and First Vice-President Frans Timmermans to put health ahead of the interests of the tobacco industry in the EU's trade negotiations with Mexico, Chile and the Mercosur trade bloc (Argentina, Brazil, Paraguay and Uruguay). Together with the global Campaign for Tobacco-Free Kids, Healthy Latin America Coalition (CLAS), InterAmerican Heart Foundation and NCD Alliance we call on the EU to publicly change its stance, drop tobacco as an EU "Offensive Interest" in its negotiations with Mercosur and commit to exclude tobacco lobbyists from influencing policy positions on international trade.
This scandal is highlighted in EPHA's new report, Unhealthy Trades, along with eight other areas of trade with potentially crucial impacts on public health. The risk to public health is high, both for Europeans and for partner countries, particularly from lowered tariffs and standards and increased foreign direct investment in tobacco but also foods high in fat, salt and sugar, processed meat and alcohol, weak wording on food labelling, over-stringent intellectual property rights, weak support for the precautionary principle and inadequate and side-lined (sustainability) impact assessment processes.
State of play
The European Union (EU) is currently negotiating several significant trade deals with Latin American countries: a Free Trade Agreement (FTA) with Mercosur, the renegotiation of an agreement with Mexico, and the modernisation of a deal with Chile. These deals are part of the new generation of trade agreements, following the model of the currently frozen Transatlantic Trade and Investment Partnership (TTIP) between the EU and the United States of America. Despite the fact that TTIP has not been adopted, it can be assumed that the European Commission often uses it as a template for its current negotiations. It should not be a surprise therefore that, like TTIP, these three deals could have considerable impacts on health both in the EU and partner countries.
Risk areas
Nine areas of trade with potentially crucial impacts on public health have been identified. Each of these areas has been assigned a score from one to five to indicate the magnitude of the danger to public health, where five is very low risk to public health, and one is very high.
The risk levels for the nine topics are as follows: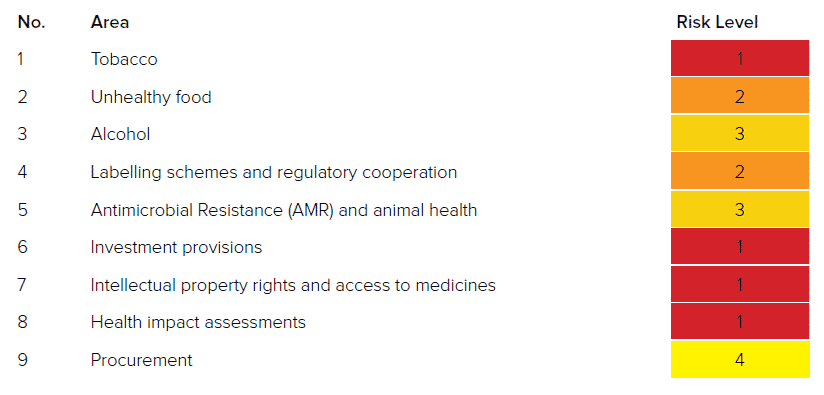 The side-effects of the European Union's Latin American trade agreement