4th EPHA Universal Access and Affordable Medicines Forum
Time for a New Deal: Challenging the status quo on medicines policy
#newdeal4meds



The annual one-day multi-stakeholder Forum on access to medicines in Europe organised by the European Public Health Alliance (EPHA).
The 4th EPHA Universal Access and Affordable Medicines Forum provided stimulating and lively discussions on the hottest topics in the access to medicines debate, including: pharma and medicines policies, affordability, R&D (research and development), innovation, transparency in pharmaceuticals, shortages, patient safety, health technology assessment (HTA).
09:30 - 09:45 Welcome and introduction
Fiona Godfrey, Secretary General, European Public Health Alliance (EPHA) @fjgodfrey @EPHA_EU
09:45 - 11:10 EU plans around cancer: Hype VS substance
Denis Lacombe, Director-General, European Organisation for Research and Treatment of Cancer (EORTC) @EORTC
Kathi Apostolidis, President, European Cancer Patient Coalition (ECPC) @cancereu @kgapo
Carin Uyl-de Groot, Professor, Health Technology Assessment, Director of the Institute for Medical Technology Assessment (iMTA), School of Health Policy & Management, Erasmus University Rotterdam @ESHPM_EUR
Ward Rommel, Researcher, Kom op tegen Kanker, Access to Medicines Task-Force,
European Cancer Leagues (ECL) @CancerLeagues @KOTKanker @WardRommel
Chantal Bélorgey, Head of the Health Technology Assessment (HTA) and Public Health division, French Health Authority (Haute Autorité de Santé – HAS) @HAS_sante
11:30 - 12:00 Access to medicines – high and unsustainable price levels: Keynote & brief exchange with Bjørn-Inge Larsen
Bjørn-Inge Larsen, Secretary-General, Ministry of Health and Care Services, Norway
Yannis Natsis, Policy Manager for Universal Access and Affordable Medicines, European Public Health Alliance (EPHA), Member Of The Management Board at European Medicines Agency (EMA) @ynatsis @EPHA_EU
13:00-14:25 An old new problem: Solutions to the medicines shortages in Europe
Vlad Mixich, Coordinator, Romanian Health Observatory – Board member, EPHA @mixich
Charlotte Roffiaen, EU advocacy advisor, France Assos Santé (FAS) @Fr_Assos_Sante @EU4Ublog
Aida Batista, Vice-President, European Association of Hospital Pharmacists (EAHP) @EAHPtweet @AidaBatista
Kasper Ernest, Secretary-General, European Association of Euro-Pharmaceutical Companies (EAEPC) @EAEPC_Brussels @KasperErnest
14:45-16:15 Pharmaceuticals, a secretive business: How to shed light into the black box?
Ellen t' Hoen LLM, PhD, Medicines Law & Policy @MedsLawPolicy @ellenthoen
Audun Hågå, Head, Norwegian Medicines Agency
Marcel van Raaij, Director of Pharmaceutical Affairs and Medical Technology, Ministry of Health, Welfare, and Sports, The Netherlands @MarcelvanRaaij
Fergal O' Regan, Head of Enquiries, European Ombudsman @EUombudsman
Alexander Roediger, Executive Director Oncology Policy, Europe, Middle East, Africa and Canada (EMEAC), MSD International @MSDInvents
16:15-16:30 Closing remarks
16:30-17:30 Networking reception
Aida Batista
Vice-President, European Association of Hospital Pharmacists (EAHP)
Charlotte Roffiaen
EU advocacy advisor, France Assos Santé (FAS)
Rohit Malpani
Board member, UNITAID
Ward Rommel
Access to Medicines Task-Force, European Cancer Leagues (ECL)
Fergal O' Reagan
European Ombudsman
Audun Hågå
Head, Norwegian Medicines Agency
Alexander Roediger
MSD International
Fiona Godfrey
European Public Health Alliance (EPHA)
Kathi Apostolidis
President, European Cancer Patient Coalition (ECPC)
Marcel van Raaij
Director of Pharmaceutical Affairs and Medical Technology, Ministry of Health, Welfare, and Sports, The Netherlands
Bjørn-Inge Larsen
Secretary-General, Ministry of Health and Care Services, Norway
Chantal Bélorgey
Head of the Health Technology Assessment (HTA) and Public Health division, French Health Authority (Haute Autorité de Santé - HAS)
Ellen t' Hoen LLM, PhD
Medicines Law & Policy
Vlad Mixich
Coordinator, Romanian Health Observatory – Board member, EPHA
Carin Uyl-de Groot
Professor, Health Technology Assessment, Director of the Institute for Medical Technology Assessment (iMTA), School of Health Policy & Management, Erasmus University Rotterdam
Denis Lacombe
Director-General, European Organisation for Research and Treatment of Cancer (EORTC)
Yannis Natsis
European Public Health Alliance (EPHA)
Kasper Ernest
Secretary-General, European Association of Euro-Pharmaceutical Companies (EAEPC)
The debate on social media
"Low evidence, high price. The challenge is to find the right balance between timely approval, uncertainty and budget constrains" says Chantal Belorgey of @HAS_sante #newdeal4meds

— Viviana Galli (@Vivivovi) November 14, 2019
Past EPHA Universal Access and Affordable Medicines Forums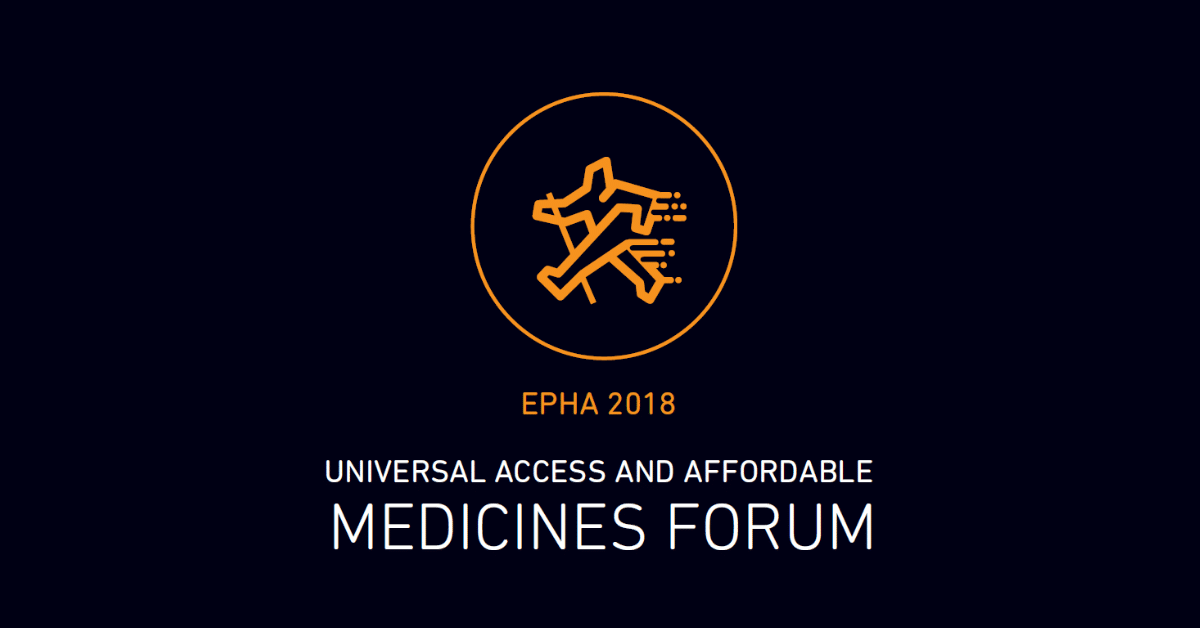 EPHA 2018 Universal Access and Affordable Medicines Forum
2017 EPHA Universal Access & Affordable Medicines Forum
2016 EPHA Universal Access and Affordable Medicines Forum
Policy
Yannis Natsis
Policy Manager Universal Access and Affordable Medicines
yannis@epha.org
+32 2 233 3886
Press
Giulia Vettore
Communications Manager
giulia@epha.org
+32 2 233 3884
Logistics
Selena Goksel
Events Coordinator
selena@epha.org
+32 2 233 3875