As the World Health Organization announces Antimicrobial Resistance (AMR) as one of the top ten global health risks for 2019 and the years to come, time for action is running out. Failing to take immediate, joint action across the human health, animal health, agricultural and environmental sectors, risks simple infections becoming a death sentence, affecting lives, health and health systems across Europe and worldwide.
In 2015, all WHO member states committed to a Global Action Plan which called for the adoption of National Action Plans (NAPs) on AMR by mid-2017; a commitment reiterated in subsequent political declarations and by the EU One Health Action Plan against AMR. However, a new study from EPHA finds that translating such political commitments to actions implemented at national, regional and local levels remains a challenge. In fact, adopting a more 'GLOCAL' approach could be the new narrative for effectively combatting AMR – focusing on the local implementation of actions taken at global level.
The creation and implementation of these national plans are an important first step towards developing effective policy responses to fight AMR in Europe and globally. They serve as a guiding policy framework, aligning and coordinating actions by public and animal health professionals and ensuring that the agricultural and environmental sectors are also involved.
EPHA's new study maps the development and implementation of NAPs on AMR or similar initiatives in the 28 EU Member States and Iceland, Norway, and Switzerland and demonstrates some examples of NAPs according to four thematic areas:
encompassing a One Health approach;
including financing estimates and identification of funding sources;
integrating implementation and evaluation mechanisms; and
identifying clear measurable goals.
The study finds that although the ambitious target of adopting NAPs by 2017 has not been reached, there has been sustained progress in their development, perhaps as a result of the increasing political momentum round AMR and the EU's Action Plan, which may have stimulated and reinforced action by national governments to live up to their previous international commitments.
The good news is that 74% of the 31 countries analysed have developed and/or implemented a NAP or a similar initiative to tackle AMR. However, Member States are at very different stages in the realization of their plans and there are considerable variations on how much they have adopted a One Health approach.
One Health
Only 51% of the countries analysed could be considered as having action plans, national programmes or strategies that follow a One Health approach. In fact, whilst acknowledging the One Health concept, some NAPs address AMR in different fields separately.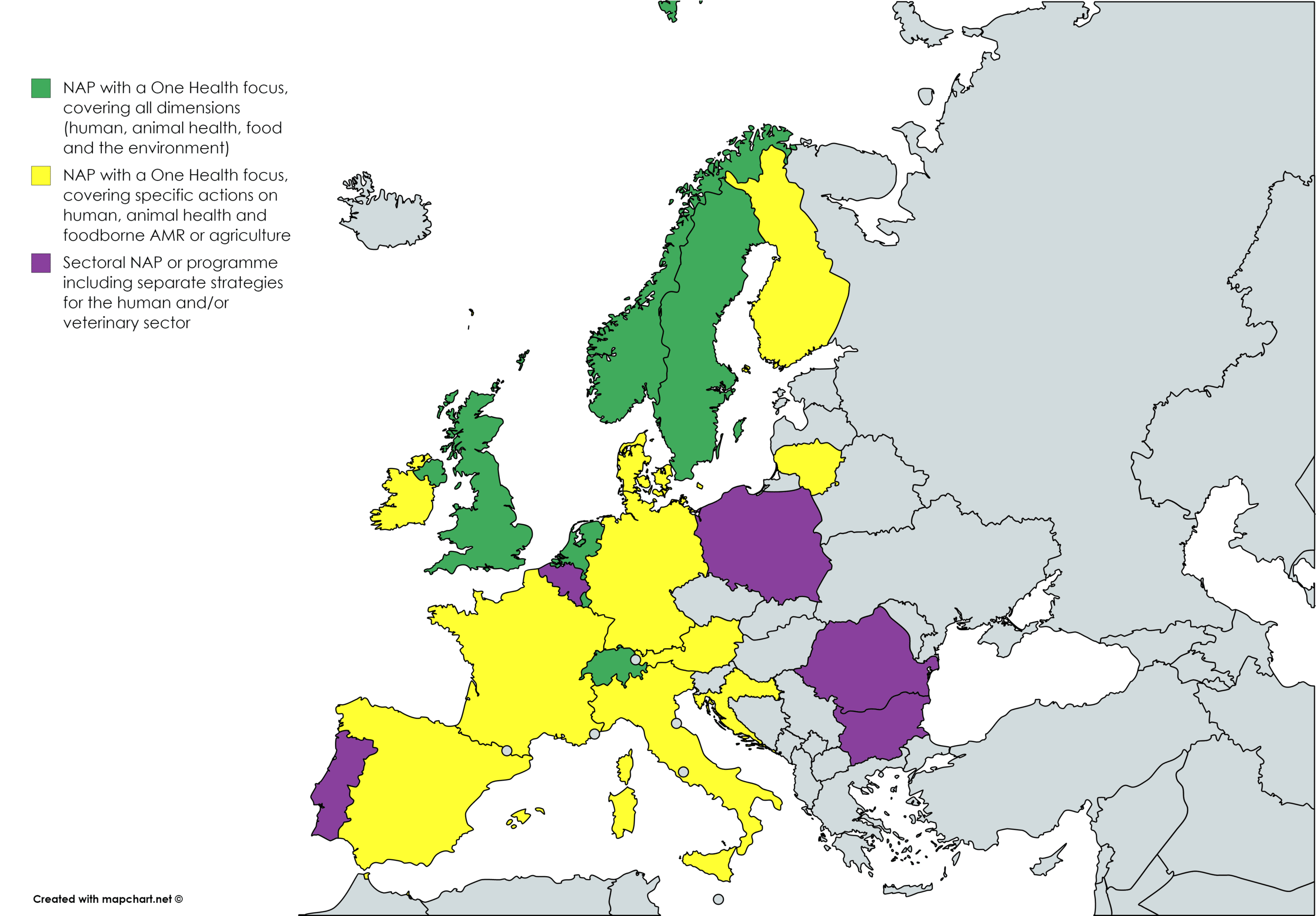 A closer look at the coverage of a One Health approach in current National Action Plans or similar programmes in EU Member States and EFTA countries.
Moreover, some plans appear to be rather fragmented comprising of a main strategy accompanied by separate strategies targeting one sector in particular. Therefore, there remains considerable scope in some countries to streamline their multiple strategies on AMR and incorporate them into a single, coordinated One Health NAP. This may require better coordination and communication between different government Ministries and agencies to ensure that all relevant actors understand the importance of adopting a multisectoral approach.
Geographical outlook
One striking finding is that most One Health NAPs are found in Northern and Central Europe, where AMR prevalence is generally lower than the rates observed in Eastern and Southern European countries, which often face considerable healthcare systems challenges and lack of sustained financing.
What's included and what's missing?
Most current NAPs feature  elements from  the 2016 Council Conclusions on AMR. Around 60% of NAPs and strategies analysed have identified infection prevention and control and awareness-raising among professionals and the general public, as common overarching goals or priorities.
However, countries seem to be performing less well regarding the NAP principles referred to  the Global Action Plan on AMR. Despite a few good practice examples, the large majority of NAPs do not include:
estimates of required financial resources or dedicated funds available for implementation
performance or monitoring indicators and reporting arrangements to evaluate their activities measurable,
time-bound targets in the human and veterinary sectors.
Recommendations
The study sets out a number of recommendations for policy-makers in the European Commission and within national governments including the introduction of measurable targets; allocation of adequate funding at EU and national level; taking action to tackle pharmaceuticals in the environment and engaging with civil society as action plans are developed and revised.
Looking ahead
For the EU to truly become a best practice region (one of the pillars of the EU One Health Action Plan), it is crucial to reduce the wide and pronounced disparities among and within countries, and consider providing targeted and sustained support and resources to those countries which need it the most. This will allow the EU to move from achieving isolated success and best practices in a few countries to good standard practices in all countries, with antibiotic stewardship evenly distributed across the EU.
Ann Marie Borg
Policy Coordinator