The role of meat production and consumption features prominently in debates about the future of food. Health is also increasingly central in thinking about food and food systems reform. This discussion paper offers an attempt to explore the most distinctive connections between current levels of meat production (animal farming) and consumption in Europe and public health.
In doing so, it intends to foster debate and contribute to a richer understanding about the links between food and health, and what it takes to transition to sustainable food systems.
Conceptual framework used to explore the links between meat production and consumption in Europe and public health: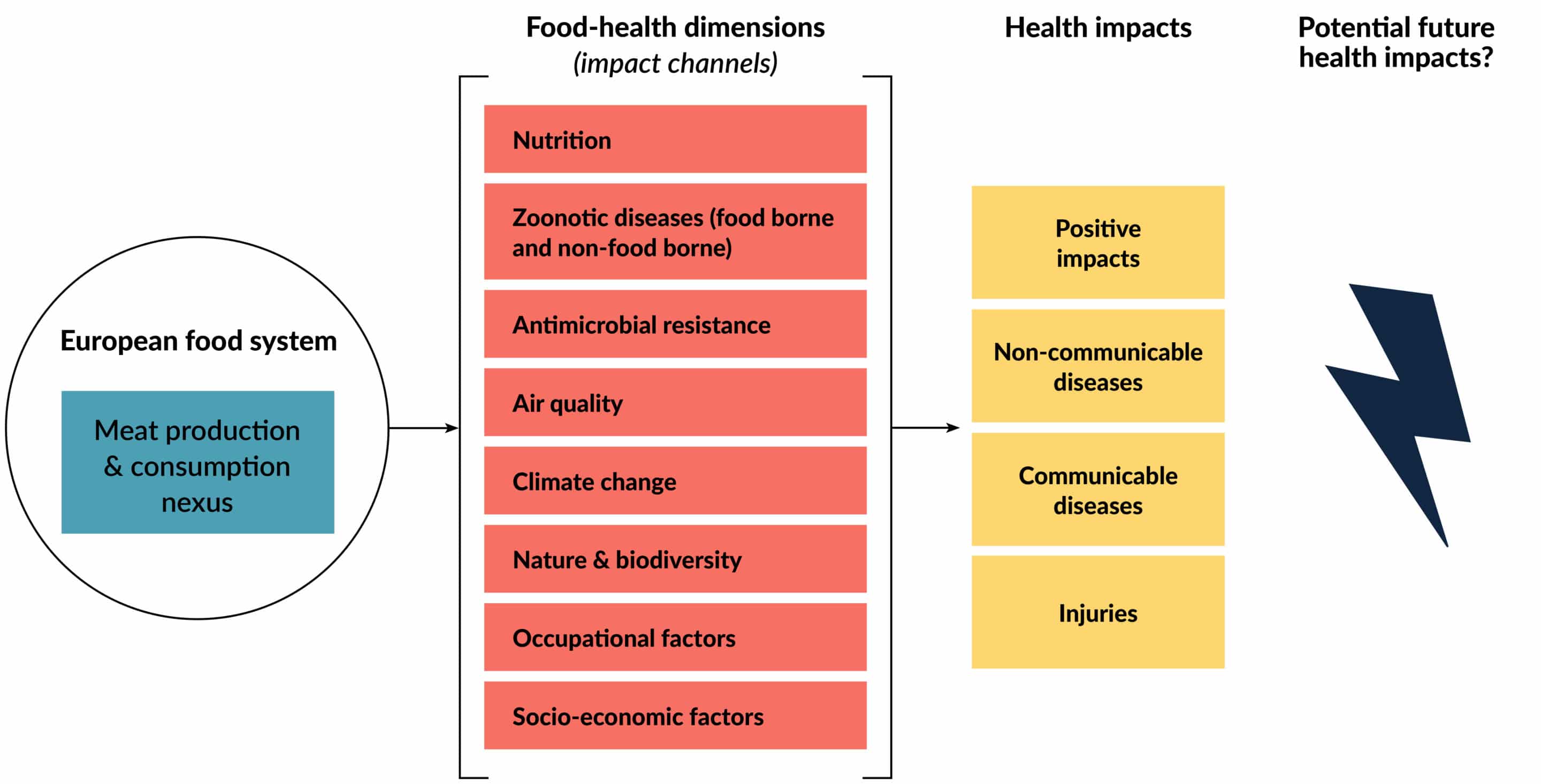 Selection of relevant papers that appeared after finalisation of paper (regular update)
Co-benefits
Schiavo, M., Le Mouël, C., Poux, X., Aubert, P.-M.,(2021).AnagroecologicalEuropeby2050:What impact on land use, trade and global food security? IDDRIStudy N°08/21
Moberg, E., Säll, S., Hansson, P.A. and Röös, E., 2021. Taxing food consumption to reduce environmental impacts–Identification of synergies and goal conflicts. Food Policy, 101, p.102090
Cusworth, George, Tara Garnett, and Jamie Lorimer. "Legume dreams: The contested futures of sustainable plant-based food systems in Europe." Global Environmental Change 69 (2021): 102321.
Katerina S. Stylianou, Victor L. Fulgoni, Olivier Jolliet. Small targeted dietary changes can yield substantial gains for human and environmental health. Nature Food, 2021; 2 (8): 616 DOI: 10.1038/s43016-021-00343-4
Nutrition & diet
Collier, Elizabeth S., et al. "Identifying barriers to decreasing meat consumption and increasing acceptance of meat substitutes among Swedish consumers." Appetite (2021): 105643.
Toribio-Mateas, Miguel A., Adri Bester, and Natalia Klimenko. "Impact of Plant-Based Meat Alternatives on the Gut Microbiota of Consumers: A Real-World Study." Foods 10.9 (2021): 2040.
Ridoutt, Bradley G., Danielle Baird, and Gilly A. Hendrie. "Diets within planetary boundaries: What is the potential of dietary change alone?." Sustainable Production and Consumption (2021).
Zoonotic disease
Antimicrobial resistance
Air quality
Climate change
The Lancet Seris: Heat and health (2021)
Xu, X., Sharma, P., Shu, S. et al. Global greenhouse gas emissions from animal-based foods are twice those of plant-based foods. Nat Food (2021). https://doi.org/10.1038/s43016-021-00358-x
Nature & biodiversity
Occupational conditions
Socio-economic influences
Nicholls, Jill, and Adam Drewnowski. "Toward Sociocultural Indicators of Sustainable Healthy Diets." Sustainability 13.13 (2021): 7226.